ACHIEVEMENTS
It is with great pride and pleasure that we would like to announce that Tricity's very own Dr. Vijita Mehta, proprietor of The Dental Arcade, was awarded the "Smile Centre of the Year" award on November 15th 2014 in Mumbai and has returned to us this evening. This honor was bestowed upon her by Famdent for excellence in dentistry. This award is given at a National level where out of the hundreds of participating clinics are judged by Elite & venerated dental professionals from all over the country. Apart from this, she was also nominated in the six more categories; Clinic Interiors of the Year, Dental website of the Year, Entrepreneur Dentist of the Year, Clinic of the Year, Outstanding Dentist of the Year as well as Specialist Dentist of the Year. The Smile Centre of the Year award makes The Dental Arcade only clinic in North India to be given this prestigious accolade for this year. Dr. Vijita Mehta got Famdent Award for the second year in a row; last year she was awarded the "TechnoSavy Dentist of the Year" award, which was a Special Jury Award by Famdent, for the Year 2013. Her goal from the very beginning has been to provide the best possible care and treatment to the all using the latest equipment and techniques available today.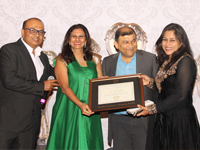 ---
Brands Academy, one of Asia's leading brand management and consulting companies, organized the Brands Academy Healthcare Excellence Awards Ceremony in New Delhi, India, to felicitate some of India's most powerful brands in Healthcare industry for their exemplary achievements in their respective fields. Based on a comprehensive market research study and opinion surveys conducted over the period of last 5 months, the awards were recognition for the winners who are continuously striving for excellence in delivering quality products and customer service.
Famous Bollywood Actor, Ms. Soha Ali Khan, was the chief guest at the gala ceremony and gave away the award certificates to the winners.
We proudly say that we received the BEST UPCOMING MULTI SPECIALITY DENTAL CLINIC AND IMPLANT CENTRE IN CHANDIGARH, from BRANDS ACADEMY.
Fix Your Appointment here